Every business has one budget goal:
"Make more money than last year!"
It's basic business 101! However, a lot of businesses find this goal easier said than done. Make roof care a priority, and you can easily add $70,000 to 3,000,000 to your bottom line in just a few minutes! It's so easy it's literally like someone handing you a bag of cash with no strings attached.
Add to Your Bottom Line with Roof Maintenance
Not sure how roof maintenance can save you money?  Take a look at the following example:
This is Andy he is a typical business man who wants to have a successful year.  He is always searching the web for new ways to save money and add to his bottom line.
Andy has a commercial flat roof he needs to care for that's 20 years old.  He thinks he might replace it soon, because it leaks too often and repair costs are eating away at his budget. Did you know most roofs are replaced with 30% of their life left? If Andy replaces his roof now, he will be wasting his money.
If Andy wants to save on repair costs, the best thing to do is spend money on a maintenance plan.
Spend a Little, Save a Lot!
If Andy wants to save his budget and his roof he needs to start thinking ahead.  It sounds counterintuitive, but if Andy wants to save money he needs to spend!
Andy is on what is called a Broke/Fix plan.  If he notices a problem like a roof leak, then he finds someone to fix it.  Every repair is a huge emergency and Andy pay emergency prices. He knows he's getting hosed but what can he do?  The roof has got to get fixed!
Comparatively,  if Andy was on a maintenance plan from NIR he would be able to fix problems before they became emergencies. The cost of repairs is reduced. Major repairs are nearly eliminated. Andy can also up the amount of tax deductible service visits he gets over time, creating a roof maintenance plan that's customized to his roof and his budget.
Look at this handy dandy chat for a perfect illustration of how much you can add to your bottom line with a roof maintenance plan.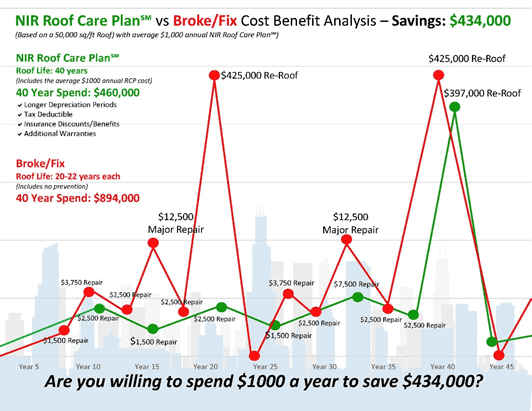 In this example, over 40 years the client with a 50,000 square foot roof saves $434,000.  To put it in more immediate terms, every year the roof is not on a maintenance plan $10,850 is wasted.
Change the way you take care of your roof you can easily see how the money starts to pile up! Andy can definitely see how commercial flat roof maintenance can add to his bottom line.  He is now the office superstar! Commercial roof maintenance will add to his bottom line this year, and for many years to come!
NIR Roof Care Plans are tax deductible. See the articles below to find out all the tax breaks you can get by taking proper care of your roof.
Click or Call to Start Saving
Now that you've seen a good example of how a commercial roof maintenance plan can save money it's time to see how much you can save!
Every roof is different, but they all have one thing in common… THEY LEAK!  Without a plan, a huge repair bill is waiting just around the corner. Start taking care of your roof now! Call NIR and we can send a Roof Care Specialist out to your property to do a free inspection.  Once the roof is properly assessed we can show very clearly how you can save your money and add years to your roof's life.
Be happy with your roof care and click below or call us at 800-221-7663 (ROOF) to get a no cost, no obligation quote.

Already have a NIR Roof Care Plan®?   Let us look at your other properties!